Ophelia, a tragic woman who falls victim to men because of her own beauty and ends up dead. Perhaps there was a clue in the name given to this piece.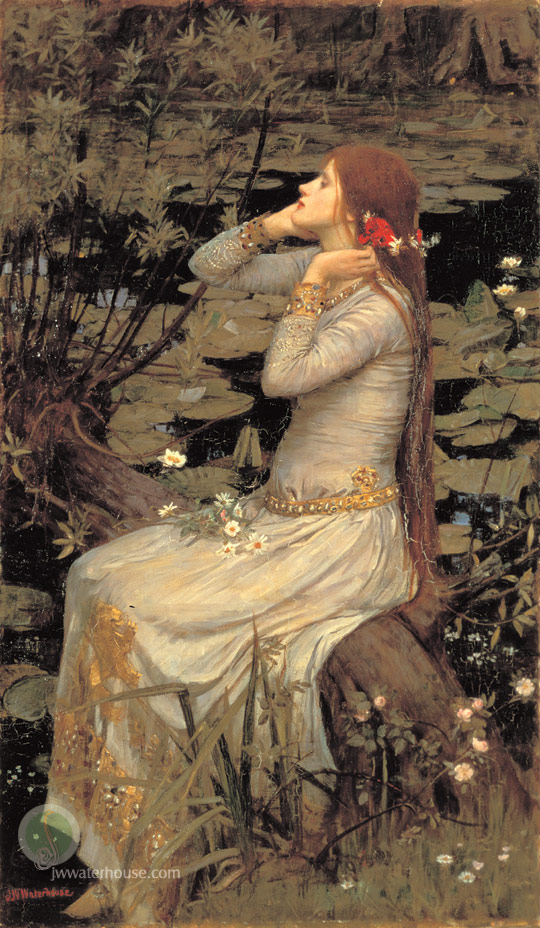 There was nothing for it. It wasn't a decision made lightly or easily, actually it was downright torturous but there's only so much stretching and pulling that yarn can endure before it has to be admitted. Only so many contortions of the torso and warping of bodily parts, can be physically endured, twisting this way and that all in vain. Ophelia didn't fit me. No matter which way I tugged or turned. It didn't even fit my 16 year old. Unbelievably, inconceivably, heartbreakingly the darn thing was too small. How could it be possible!! I was convinced aliens had been at mischief here. Or the knitting gremlins. It couldn't be my fault, no way.
However there was little evidence of kniting gremlins, nothing green and slimey in the vicinity. Even less evidence of aliens. The bright lights in the garden turned out to be the solar lamps. Perhaps my evil twin had done a swap, but then if she was my twin she'd be the same size. I was running out of options. There was nothing left but to admit I'd done something somewhere, and it was wrong.
I didn't want to admit that I have either put on a heap of weight since I started knitting it, and as I can't see behind me, there is the possibility that I am dragging around several more kilos than the front would suggest. It had to be tension. But I always do a tension square. Honest I do! Sometimes. If I can be bothered.
Ok I admit,I didn't check my tension. Why would I waste valuable knitting time making up a piece of knitting that I'm just going to measure. Why indeed!! Well I know now that had I spent half an hour with that swatch I wouldn't have spent several hours frogging my beautiful Ophelia, nor would I be about to spend several weeks re knitting it on larger needles. I could have cried. Really I could. It was so beautiful adn I was so looking forward to wearing it everywhere. The disappointment was only mildly offset by Galaxy chocolate which costs a bomb as it has to be imported and is only sold in specialist shops.
But this is not a blog to dwell on misfortune. I am all for positive thinking. I am positive it upset me, but equally positive that it will look lovely when I finish it for the second time.
Elsewhere in my universe we had a movie day at home yesterday. The kids all made tickets and boxes for the popcorn, while my drama queen prepared and performed the opening adverts and trailers for upcoming films. We then watched The Water Horse in as close to darkness as we could manage while the sun streaming in through the closed windows. I wasn't allowed to knit as the girls said I wouldn't be able to knit in the cinema. They relented about halfway through and then I could enjoy the film. It was a sweet little film. Not a powerful enough ending for me. I wanted more of a ahh moment. Still the kids all enjoyed it and that's the main thing.
Also finished the white baby blanket, Peri thinks it's his and was quite willing to be tester of comfort and softness.
He was most reluctant to give it back to me so I could wash and block it. I am very lucky to have such a helpful cat. Nothing it seems is too much trouble for him.
I did manage to distract him with an offer of food long enough to photgraph it and then wash it. Sitting on top are the wound up balls from Ophelia.
Finished reading Wit's end, but have to admit I didn't really understand the plot. There was some mystery surrounding the main character's father and the fictional character that was named after him, but I couldn't tell you what it was. I enjoyed reading the book, drawn in by the writing style and the hope that it would all make sense to me at some point. Perhaps I should have stuck to my chick lit.